Visit Close Knit for all your knitting and crochet needs.
We offer a full range of fibers, accessories and classes.
Open late nights every Thursday until 7:30 P.M. ... EVERY Thursday!
Be the first to find out about sales and promotions, special events, and class offerings by signing up for our newsletter
here
or by clicking the subscribe button below.

---
Bus Trip to Rhinebeck Sheep and Wool Festival
Saturday, October 21st

Can you believe that it's time to sign up for the Rhinebeck bus again!?! Be sure to sign up early to secure your seat on the bus! Price includes entrance to festival, air-conditioned bus with restroom, prizes, games, fashion shows, goody bags, an on-board movie, and snacks. Bus departs at 7:30 am and returns 5:30 pm. Join us for our BIGGEST event of the year! Don't be left behind! There are very limited seats available. This event WILL sell out. Call or stop in to register today!
---
Yarn of the Month - 15% Off

Neve by Juniper Moon
Juniper Moon Farm Neve is a 100% cotton worsted weight yarn. Neve has a chainette construction, making it an even lighter and more airy choice for warm weather garments ... imagine cardigans, pullovers, tops and shawls & wraps for the beach. Made in Peru.
Fiber Content: 100% Cotton
Weight: Worsted
Gauge: 4.5-5.5 sts = 1" on US 6-7
Weight/Yardage: 100g/222yds
---
Project of the Month
"Tank Top" by Patons
With subtle waist shaping and easy construction, you'll look like a superstar knockout! Pattern includes sizes XS/S, M, L, XL, 2/3 XL, 4/5 XL.

---
Book Club with Patti McHugh
Thursday, June 22, 6:00 pm - 7:30 pm

Join us for our next book club as we discuss One Hundred Names: A Novel by Cecelia Ahern. Read the book, bring your knitting or crochet project, and participate in what is always a fun evening. Prepare and bring three discussion questions relating to the book. Refreshments will be served. There is no cost to attend but please call to RSVP!

---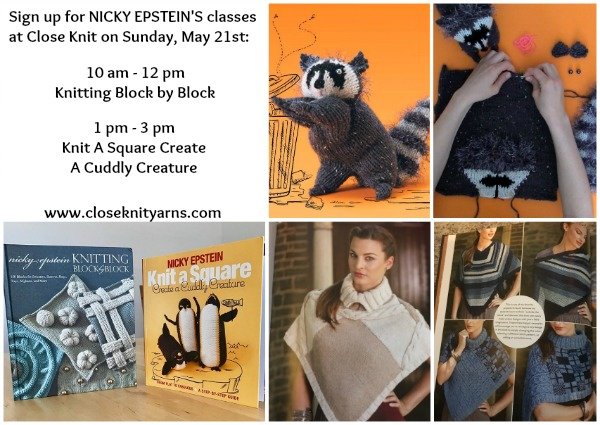 NICKY EPSTEIN is coming to Close Knit!!!

It's Not Too Late to Join Us! NICKY EPSTEIN will be at Close Knit on Sunday, May 21st! Make sure to reserve your spot for one (or both!) of Nicky's awesome classes:
From
10 am - 12pm -- Knitting Block by Block
. Knitting Block by Block. Learn what fantastic designs you can make with different amounts of blocks. Learn how to make a fabulous capelet with four 12x12 basic knit squares! Bring one square and you can make a hat or bag. Two squares make a bag or mitts. Four squares will make a capelet. You can even make a basic stockinette square and embellish later!!
Homework: Make 1-4 squares (4 squares makes a capelet as shown above) from the book, which is on sale at the store, and Nicky will show you how to make a capelet. Hint: use a large gauge yarn for 4 quick blocks. Bring extra yarns for embellishing and finishing. (And bring the with book you so Nicky can autograph it for you!).
From
1 pm - 3 pm -- Knit A Square Create A Cuddly Creature
. Make the most adorable animals with very little effort. Homework: Make any square from the book, which is on sale at the store. (And bring the book with you so Nicky can autograph it for you!) .
If you sign up for both classes, there will be a luncheon from
12 pm - 1 pm
with Nicky.
The books are available for purchase in store now. Bring your books to class and Nicky will autograph them for you.
---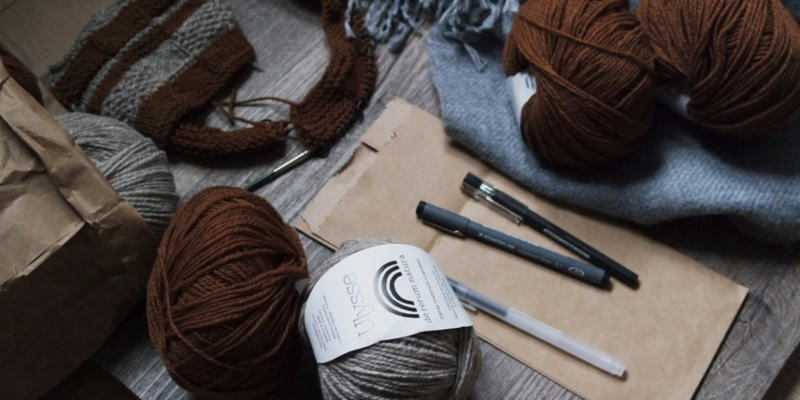 Social Knitting Every Thursday night!
Come stop in to knit and shop! We are open for social knitting and shopping until
7:30 every Thursday night
.
---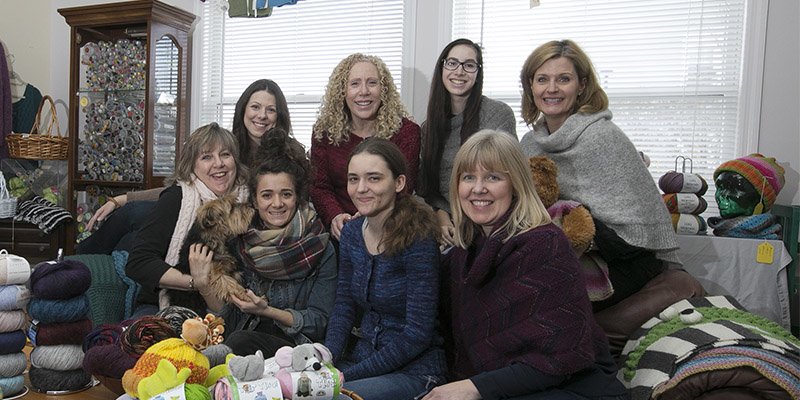 We're on Interweave!! Check out our write up on Interweave written by our very own Gus Baxter! http://www.interweave.com/article/knitting/lylys-close-knit-yarn-shop/
---
Visit the New Sale Corner!
Lots and lots of yarn on sale in our new Sale Corner ... everything there is 40% off!!!
Cometa, Linus, Mixer, Karma, Captiva, Weekend Chunky, Pacific Chunky, Cascade Baby Alpaca Chunky, Gemini, Cascade Magnum, Blackstone Tweed, Kasha , Lodge, Sunseeker, Debbie Bliss Riva, Zen Garden, Brio, Nadeshiko, Cyochin, Mossa, Casablanca, Souffle, Geilsk, Flicker, Alp Oriental Feza, Ella Rae Lace Merino Chunky, Cotton Classic, Circulo Ribbon, Katia Sole, Lang Felice, Moda Lame, Lacey, Syros and all yarn with Glitter in it…. All discounted yarn samples are also 40% off. All final sale.