Visit Close Knit for all your knitting and crochet needs.
We offer a full range of fibers, accessories and classes.
Open late nights every Thursday until 7:30 P.M. ... EVERY Thursday!
Be the first to find out about sales and promotions, special events, and class offerings by signing up for our newsletter
here
or by clicking the subscribe button below.

---
Please note that we will be closing the store at 2 pm on Saturday,

April 22 for our special class with master knitter and finishing expert
Keith Leonard.
---
March Madness

During the month of March, if you spend $50 or more, you will receive 10% off your entire purchase!!!
---
Yarn of the Month

Briza by Berroco
15% OFF

Briza is a lightweight mohair blend that creates beautiful fabrics with a shimmering mohair halo.
Hank Weight: 1.4 oz / 40 g
Hank Length: 219 yds / 200 m
Knitting Gauge: 5 sts = 1"
20 sts & 30 rows = 4" (10cm)
Needle Size: 7 (US) / 4.5 mm
Crochet Gauge: 4.5 sc = 1"
18 sc & 22 rows = 4" (10cm)
Hook Size: G (US) / 4.5 mm
Yarn Fiber: 51% Mohair, 43% Nylon, 6% Wool
Yarn Wash Info: Hand wash. Lay flat to dry.
---
Project of the Month
Briza Breeze by Andra Asars
Feather-weight poncho in stockinette stitch featuring a garter band across the bottom edge. This simple poncho is made from a rectangle folded in half and seamed. A loose turtleneck is created by picking up and knitting around the neck opening. This lightweight and cozy wrap can be styled any number of ways by spinning it around the body.
Finished measurements: Knit rectangle: 56" long x 22" wide, Folded and finished piece: 26" x 22".
---
NJ Wool Walk 2017

To end the month, there is the NJ Wool Walk 2017, Thursday March 30 through Sunday April 2. Buy a passport for $6.00 and receive 20% off your YARN purchase. There is also a great bag on sale for $6.00. Please go to the NJ Wool Walk website for all the Rules and Guidelines for this amazing event.

We will be hosting a "Bon Voyage" party on Thursday March 30th from 6pm - 8 pm. Just bring your "Passport" and, if you would like, an appetizer enough for 6 people and join us for a Champagne and cheese party to send you off on your "Wool Walk".
And there may be a SURPRISE or two during the four day event!!!
On Sunday, to say farewell to your "journey", Michelle Kupfer will be at the shop from 11am - 2pm with a trunk shop of her fantastic samples and she will also sign copies of her patterns. Mimosas and brioche (the pastry) will be served.

Michelle is the designer behind many of the samples on display at Close Knit. Her patterns are favorites with of our customers because they are so easy to knit, with results that impress! She uses her teaching experience and explains things in such a way that the knitter feels empowered and independent. Check out Ravelry for a sampling of her patterns.
And as if there isn't enough going on at Close Knit, we will be featured on the Interweave website starting March 8th. We will send you a link on Facebook and Instagram when it comes out.
---
Keith Leonard Classes and Trunk Show
We are excited to be hosting an exclusive trunk show featuring hundreds of skeins of Keith exclusive colorways of Zen Yarn Garden yarns. With the Trunk Show yarns, Keith will also be providing numerous sample garments and pattern support for these fabulous yarns.

Learn to professionally assemble your knitwear from the finishing master Keith Leonard, owner of Knits All Done. In this class you will learn the tips, tricks, and secrets behind picking up stitches, weaving in your ends and the proper use of mattress stitch to seam your prepared knitted swatches together. Be amazed as the magic unfolds and walk away with the proficient skills to finish your knitwear professionally for years to come.
Ready to take your knitting to the next level? We have already mastered creating mistakes, now we will fix them! Never fear making a mistake in your knitting again! In this class we will be picking up dropped stitches in stockinette stitch and garter stitch. We will learn how to recognize twisted stitches, undo our knitting row by row, rip our knitting while successfully getting it back on the needle and add lifelines. As an added bonus, we will learn to count rows in different stitch patterns and properly measure knitting! Walk away with the skills to be a master knitter for years to come.
Thursday, April 13, 6 pm - 8 pm
Trunk Show -- Free
Saturday, April 22, 3 pm - 5 pm
Flawless Finishing Part 1 $65
Sunday, April 23, 10 am - 12 pm
Fixing Mistakes $65
... 12 pm - 1 pm
Catered Lunch for those that sign up for both classes
... 1 pm - 3 pm
Flawless Finishing Part 2 $65
Please call the store or stop in to sign up for classes and/or the trunk show. There is homework for all classes so please make sure to get it.
---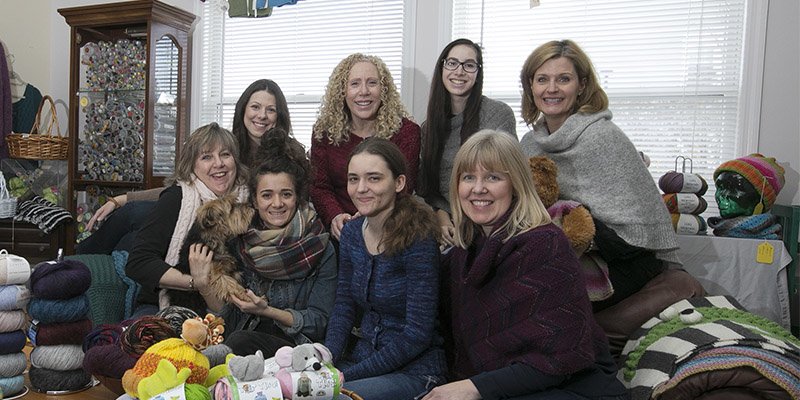 We're on Interweave!! Check out our write up on Interweave written by our very own Gus Baxter! http://www.interweave.com/article/knitting/lylys-close-knit-yarn-shop/
---
Book Club with Patti McHugh
Thursday, May 4, 6:00 pm - 7:30 pm

Join us for our next book club as we discuss
The Book of You
by Claire Kendal. Read the book, bring your knitting or crochet project, and participate in what is always a fun evening. Prepare and bring three discussion questions relating to the book. Refreshments will be served. There is no cost to attend but please call to RSVP!
---
Save the Date!
Sunday, May 21st
for Nicky Epstein. More information to follow in the class newsletter.
---
Visit the New Sale Corner!
Lots and lots of yarn on sale in our new Sale Corner ... everything there is 40% off!!!
Cometa, Linus, Mixer, Karma, Captiva, Weekend Chunky, Pacific Chunky, Cascade Baby Alpaca Chunky, Gemini, Cascade Magnum, Blackstone Tweed, Kasha , Lodge, Sunseeker, Debbie Bliss Riva, Zen Garden, Brio, Nadeshiko, Cyochin, Mossa, Casablanca, Souffle, Geilsk, Flicker, Alp Oriental Feza, Ella Rae Lace Merino Chunky, Cotton Classic, Circulo Ribbon, Katia Sole, Lang Felice, Moda Lame, Lacey, Syros and all yarn with Glitter in it…. All discounted yarn samples are also 40% off. All final sale.